How Long does it Take to Get a PhD?
 – How Long does it Take to Get a PhD? –
Explore course, exam and dissertation requirements to see how many years you could spend in one of these programs.
Learn more about how long it takes to get a doctorate degree, as well as the courses and exams required.
Read Also:
How Long Does a PhD Take?
Regardless of the subject of study, earning a doctorate degree, also known as a Doctor of Philosophy, entails a series of tasks that typically take 5-6 years to complete.
However, many students take longer: according to some estimates, the average time to complete a doctorate degree is now 8.2 years.
Students must first spend several years taking advanced courses in their field and passing a series of comprehensive exams.
Following this, PhD students must complete a dissertation project, which can take several months to complete.
| | |
| --- | --- |
| Degree Levels | Doctor of Philosophy (PhD) |
| Field(s) of Study | Varies by institution |
| Prerequisites | Master's degree (some programs will accept a bachelor's degree) |
| Program Format | Coursework; comprehensive exams; dissertation and defense |
| Program Length | 2-3 years for coursework and exams followed by at least 2-3 years dissertation work |
PhD Course Length
Full-time doctoral candidates typically take advanced courses during their first 2-3 years of study.
The number of course credits required to get a PhD. may vary widely, depending on the university's semester or quarter schedule and the doctoral program.
For example, the University of Akron requires 36 semester-hour credits to earn a PhD. in Polymer Science, whereas DePaul University mandates 60 quarter-hour credits for a PhD. in Computer and Information Sciences, meaning that PhD. program length can vary even at the level of course work.
Read Further
Enrollment status also plays a large role in the PhD duration. Universities offering PhD programs typically require doctoral students to take nearly all of their courses in a specific discipline.
For example, doctoral candidates in speech pathology may be able to take electives like anatomy, and students pursuing a doctorate in psychology might have the option to choose electives such as psychotherapy.
A PhD. length will also depend on whether the candidate is studying full-time or doing their course work while also working.
The latter is increasingly common, which can add to a PhD. duration significantly.
Factors Influencing Doctorate Degree Program Length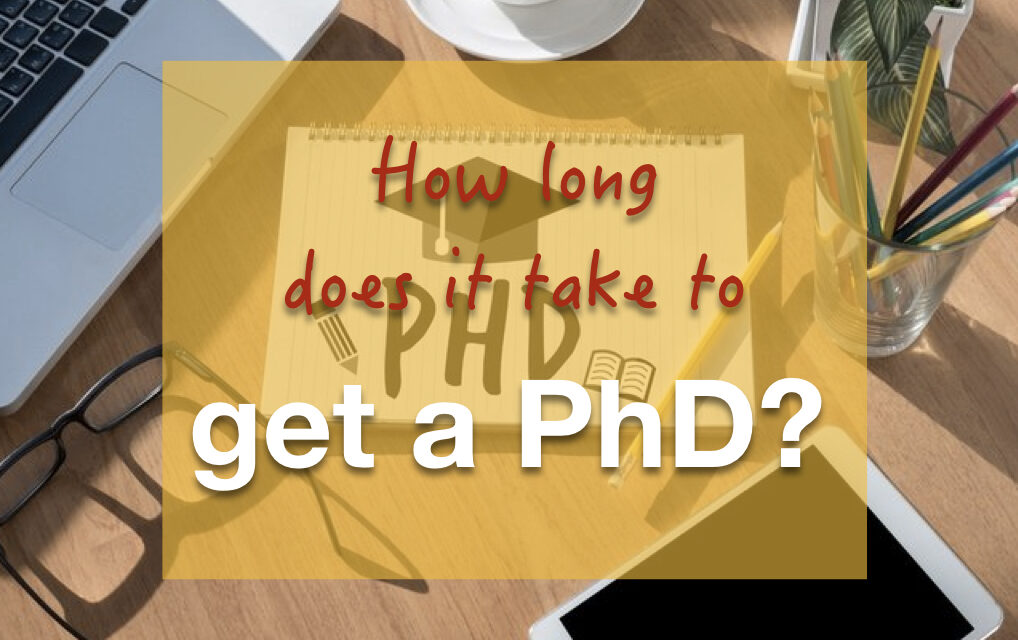 These are the major factors that delay the completion of a PhD program:
Exams in PhD. Program
Doctoral students periodically take a series of exams until they complete their PhD. program.
During the first year of a doctorate degree studies, candidates typically take a comprehensive exam to gauge their knowledge in a chosen field of study.
Additionally, students take a candidacy exam to test their general knowledge of a specific PhD. discipline.
How many years for doctorate degree exams to continue also varies by program; some courses complete their examinations 2 or 3 years into the program, while others continue the tests throughout the degree.
School departments typically create the exams, but some allow students to choose the specific subjects within a discipline that the test will cover.
Read Also:
The Dissertation
PhD students must research and write a dissertation after completing coursework. A dissertation is a book-like document that demonstrates thorough knowledge of a discipline and contributes new research to the field.
This is the most time-consuming aspect of the doctorate degree program. As many as you need to finish your dissertation.
Before receiving their degree, candidates must defend the dissertation's assertions in front of a faculty committee.
Finally, earning a doctorate takes at least 5-6 years to complete, with 2-3 years of coursework and qualifying exams followed by a number of years to complete a dissertation.
In conclusion, we believe the above information was useful. Please, kindly share this content on all the available social media platforms.
CSN Team.