How Many Years of College to be a Nurse?
 – How Many Years of College to be a Nurse? –
Are you ready to start a professional career in nursing? You may be wondering how many years of college to be a nurse, learn more about timelines, degrees, and job options.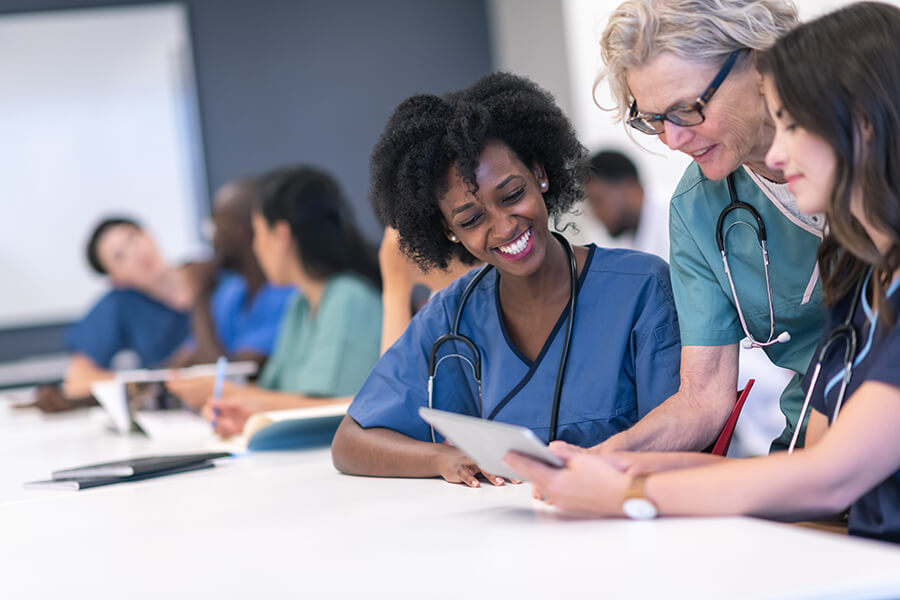 You can expect to become a registered nurse in around 2-4 years, depending on which nursing program you go with (ADN or BSN) and the level of education you having going in.
Read Also:
How Long is an Associate's Degree in Nursing (ADN) Program?
Earning an Associate's Degree in Nursing is the shortest path to becoming a Registered Nurse. Completing an ADN program generally takes two to three years.
Though ADNs do not have the same training in leadership and research that Registered Nurses who have earned BSNs do, those who choose the ADN path learn the same nursing procedures and work in the same settings.
Programs are offered through community colleges and can be taken online or in person, on a full time or part-time basis.
Most ADN students will have completed at least 700 clinical hours before they graduate from their program.
How Long is a Bachelor of Science in Nursing (BSN) Program?
Choosing to be a Registered Nurse with a BSN degree takes longer than doing so with an ADN degree, but provides you with more generous compensation, the opportunity to take on leadership roles, and many more options for advancement.
Completing a BSN program generally takes four years.
The most common and direct way of earning your Bachelor of Science in Nursing is to attend a full-time baccalaureate program.
These programs generally include two years of general education classes such as English Composition, Math and History and courses that are prerequisites for the nursing program, followed by a two-year program that teaches advanced principles of nursing and clinical training.
Read Further
Once you have graduated from a BSN program you will be eligible to take the NCLEX-RN (National Council Licensure Examination) and become licensed by your state to become a Registered Nurse.
If you choose to specialize in a particular area of care, there are several nursing certifications that can add value and credibility to your role and professional standing.
Each certification has its own requirements, with most including an RN degree and license and a minimum number of direct-care hours in the chosen specialty, as well as passing a certification test.
How Long Does it Take to Become a Registered Nurse (RN)?
On average, an incoming nursing student can expect to become a licensed Registered Nurse (RN) in roughly three years.
This is after a student fully completes the academic program at an accredited college or university.
If you are interested in becoming an RN but already possess a bachelor's degree in another field, you may be eligible for an accelerated program.
These programs may accept general education credits earned from other degrees, thus eliminating several semesters' worth of coursework.
Read Further
When you pursue an accelerated nursing degree, the estimated time until completion is reduced to only 18 months.
No matter which program you choose, becoming an RN requires successful completion and a passing score on the National Council Licensure Examination (NCLEX).
In order to sit for the exam, students must apply with a state-level nursing board. Preparation is key, and the ability to pass this crucial test may play a factor in how long it takes to achieve RN certification.
Read Also:
How Long Does it Take to Become a Practical Nurse (PN)?
Most states require one to two years to become a practical nurse. Although this is a faster path to becoming a nurse, students should be aware that their career options may be more limited.
LPNs may assist other nurses with routine medical duties or provide basic level care such as dressing, feeding, and tending to patients.
LPNs must sit for and pass the NCLEX-PN exam. Even students who want to take an accelerated path should study hard for the exam because there is a 45-day waiting period to retake it.
Read Further
When it comes to LPN programs, there are numerous options available, including traditional and accelerated programs.
It may be best to consult with an admissions or career counselor before deciding on the best program for your timeline and career goals.
We believe the above piece of information on "How Many Years of College to be a Nurse" was useful. Please, kindly share this content on all the available social media platforms.
CSN Team.