Is the Dr. Phil Show Staged? (Explained)
Dr. Phil McGraw is a featured expert who counsels visitors on a range of interpersonal, familial, and other concerns. But some viewers are wondering if the show is staged. Let's find out!
Dr. Phil McGraw has captivated audiences for over ten years by inviting troubled guests on his self-titled TV show and trying to help them change for the better.
In 2002, Phil started his own show after making several appearances on Oprah Winfrey's show.
However, there are claims that Dr. Phil might not be as sympathetic in real life as he appears to be on the show.
Is Dr. Phil's show staged? Continue reading if you want to find out!
Dr. Phil's Background
On September 1, 1950, Joseph J. McGraw Jr. and his wife Anne Geraldine "Jerry" welcomed their son, McGraw, into the world in Vinita, Oklahoma.
In the North Texas oilfields, where his father worked as an equipment supplier, he grew up with his two elder sisters, Deana and Donna, and his younger sister, Brenda.
He started working at a Pizza Planet franchise and an A&W Root Beer stand in Oklahoma City when he was 13 years old.
As his father pursued his lifelong dream of becoming a psychologist, McGraw relocated to Kansas with him.
In Overland Park, Kansas, he studied at Shawnee Mission North High School.
Is Doctor Phil's Show Staged?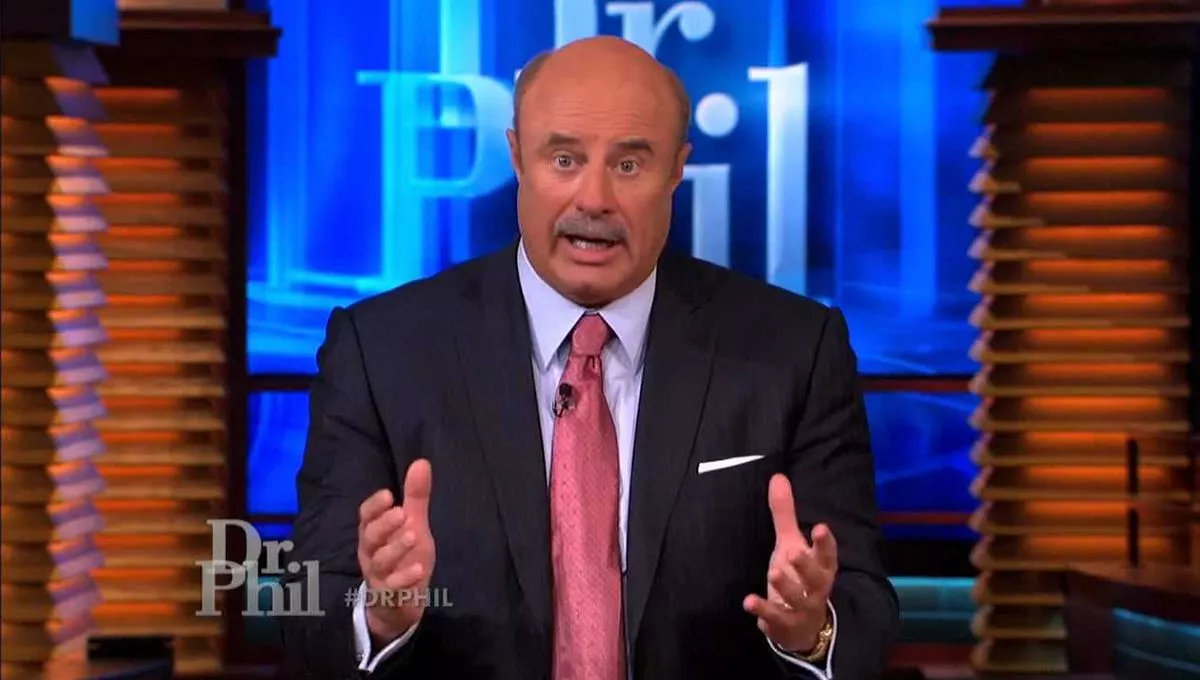 No, they do not stage it like other reality TV dramas or fictitious dramas.
The show's executive has requested that they refrain from instructing their guests to act a certain way for the sake of drama.
But for some episodes of the show, he uses the scripts to read the opening remarks or a few intermission segments.
Also, he might use a script or keep a notebook that has questions he wishes to ask the person he is trying to counsel.
This isn't because the program follows a script per se, but because Dr. Phil does his homework on each case and wants to provide the patient with the best mental health counseling.
Are Guests on the Show Paid?
Some people's perception that the show is staged is based on their assumption that they paid the guests to come to the show.
However, some visitors get paid to appear on Dr. Phil's show.
These people are popular people.
The demand for celebrities to appear on talk shows is always high, so the program has to either work with their publicity manager or pay them to appear.
According to ABC, Lindsay Lohan's mother, Dina Lohan, reportedly received $50,000 for appearing on the daytime talk show, while Burke Ramsey, the late Jon Benet Ramsey's brother, was paid an undisclosed sum to discuss his sister's murder.
Despite the fact that they were paid, it's possible that they weren't given a script.
Instead, they were required to respond truthfully to Dr. Phil's inquiries and queries.
However, regular folks who appear as guests on the show are not paid.
There are a few sporadic exceptions for individuals with historic backgrounds or who are popular.
Families of well-known murder victims, for instance, frequently fit this description.
However, the guests are not compensated for appearing on the broadcast.
Over the years, the program has offered its guests a wealth of resources to assist them in finding the care they require after their appearances.
How Much is Dr. Phil's Net Worth?
Owing to his television show, Dr. Phil McGraw is well known.
He has been a guest on several TV series and films and is also hosting his own show.
Both the comedy-drama "Madea Goes to Jail" and the horror-comedy "Scary Movie 4" featured him playing a self-portrait.
In 2015, Forbes magazine named him the 15th-highest-earning celebrity in the world.
Dr. Phil's net worth as of November 2022 was about $460 million.
Are the Guests in Dr. Phil's Show Real?
Yes, the Dr. Phil show's guests are actual people.
Because of the drama that happens, there is considerable uncertainty if the guests are actually real.
Sometimes it can seem absurd that some people would behave specifically or say certain things.
It's crucial to remember, though, that they probably chose the actors for the show because of their particular personalities.
Technically, anyone is welcome to appear on the Dr. Phil show.
Through the website, you can submit an application to appear on the show.
However, there are a few steps to it, and sometimes your approval may not be guaranteed.
Because you don't match the specific theme or story they want to tell for that episode is one of the many reasons they can reject your submission.
As an illustration, one of their episodes can be sentimental or emotional.
They will search for visitors who have an emotional tale to share.
The producers might try to create some drama in a later show.
In order to add some drama to the program, they'll search for people who exhibit particular personality traits or have a specific mental ailment.
While all the guests that appear on the show are real, the executive producers are extremely careful in selecting them.
The visitors are not only real, but they also experience mental diseases.
Do Dr. Phil's Patients Improve?
People watch Dr. Phil's show in order to improve.
They come on the show knowing they are struggling with something and seeking assistance in overcoming it.
While some could be there for fame, most people are really there to learn how to get better or to find healthy solutions to deal with their specific problems.
You might wonder if people eventually get better after seeing Dr. Phil.
Even in a 45-minute performance, the man is aware that he cannot heal a mental ailment in just eight minutes.
Therapy for such kind of behavior is necessary for months or perhaps years.
The man is aware that he cannot treat a mental disorder in eight minutes or even in a 45-minute performance.
Such issues necessitate months or even years of counseling.
With this knowledge, individuals can choose wisely how to deal with various emotions.
Then, Dr. Phil provides them with the resources or tools they require to prepare themselves for treatment.
They can finally address their mental health and lead happier lives through constant treatment.
Dr. Phil cannot successfully heal someone's mental condition in only one TV show, although he offers potential remedies for his guests on his show.
However, the ability of the person to improve after leaving the show depends on how well they adhere to their medications and therapy sessions.
Is Dr. Phil Show Taped in Advance?
From August to December, Dr. Phil's show is taped.
The program's tape keeps getting stopped throughout the holidays. Hollywood's Paramount Pictures records the Dr. Phil Show.
However, after reservations, you can join the crowd and watch the show from the studio.
Before the show begins, you must make a request if you wish to watch it from the studio.
In any case, the "Dr. Phil" show mostly tapes on Monday, Tuesday, and Wednesday.
Is Doctor Phil a Real Doctor?
He is officially no longer a doctor because he doesn't have a psychology license.
The title "Doctor" that appears next to his name is only academic most times.
Dr. Phil graduated from North Texas State University with a degree in psychology.
He also had a 20-year license to practice psychology in the state.
He was, however, also the target of several accusations of sexual misconduct made by some of his patients.
During her time as a student and employee at Dr. Phil's clinic, a woman accused him of sexual assault.
The Texas State Board of Examiners of Psychologists looked into the case.
He was declared innocent because the Board could find no evidence for these allegations.
But during the course of his work, he has faced other misconduct cases.
He decided to resign from psychology in 2006.
He then relocated to California to launch his television program.
Why Did Dr. Phil Loose His License?
Since they did not revoke his license, Dr. Phil did not lose it.
He allowed his Texas driver's license to expire. He didn't get a license when he relocated to California.
Instead, he began making appearances on Oprah Winfrey's show to offer his counsel in certain situations.
That's because a consulting firm that dealt with criminal justice and mental health employed him.
Dr. Phil still gives his visitors advice on ways to improve their mental health even though he lacks a license.
Can Dr. Phil Offer Health Advice?
No, he can't.
Legally, Dr. Phil is prohibited from providing patients with medical advice to the point of writing a prescription for them or making a referral to a facility.
He has never been a licensed psychiatrist.
Only someone who is legally permitted to practice medicine in a particular state can give medical advice.
Dr. Phil may recommend a rehab facility, but he is not permitted to submit the patient's referral to that facility in writing.
Dr. Phil cannot actually prescribe a drug to treat mental illness; he can only recommend one.
The issue with this is that the advice he gives could appear to be sensible to the viewers of the show.
However, failing to maintain a license means you become out-of-date on the most recent findings in the profession.
While Dr. Phil can always conduct his own study, this isn't the same as having access to these tools as a qualified professional.
Is Dr. Phil Respected in the Psychology Community?
No, Dr. Phil is not at all respected.
In Cleveland, Ohio, three young ladies were abducted and held hostage for several years.
The kidnapper's name was Ariel Castro.
Michelle, one of the victims, had trouble understanding what was happening.
To avoid the media and reunite with their families, all the women retreated into solitude.
The three women decided they wouldn't go public until they were all ready to do so.
The producer of Dr. Phil and private investigators located Michelle.
Without consulting her current attorneys, they forced her to make legal document changes.
She showed up on his program.
She didn't simply talk about her condition; she also revealed private information about the other two victims.
Although it helped Dr. Phil's ratings, they took advantage of a helpless young woman and made their emotional pain worse.
Fortunately, a large sum of the money for the women was placed in a secure Trust, so Michelle moved it from the guardian's account to another one that wasn't in her best interests.
It is unacceptable that Dr. Phil and his crew took advantage of the circumstance.
Does Dr. Phil Have Any Health Issues?
Phil McGraw has supported several individuals during trying times. However, he has had health issues for years.
It's possible that some people are unaware that Dr. Phil has an incurable illness.
Dr. Phil started having episodes of low energy and dizziness while he was in his late 30s.
For his age, he was remarkably fit and athletic.
But occasionally he would run across a barrier that he couldn't go past with his strength.
He visited a physician who diagnosed him with Type II diabetes.
Dr. Phil was in good physical shape for his age, so it came as a minor surprise.
But genetics made him more likely to have it.
His parents were both morbidly fat and had Type II diabetes.
The good news is that he can cope with the illness.
He had to stop working long hours or engaging in other activities without eating as part of it.
To give his body the best chance to digest the food and store it with energy, he eats regular meals throughout the day.
He also started a new exercise routine. Six times a week, he practices tennis.
He has lived a healthy and rewarding life with Type II diabetes because of these adjustments.
A stroke also struck Dr. Phil. His carotid artery developed a clot because of the damage, and it eventually reached his brain.
It was January 3, 2019, only a few days before the start of the new semester at CNU.
Phil was 57 years when he had just arrived home for lunch when the stroke happened.
What are Dr. Phil's Qualifications?
It's important to understand Dr. Phil's history in order to know his qualifications as a psychologist.
He began his academic career at the University of Tulsa on a football scholarship. He had been a linebacker in high school.
He finished his undergraduate work before enrolling at Midwestern State University in 1975.
He had his psychology Ph.D. from the University of North Texas four years later.
He began working with his father as a psychologist in 1979.
After practicing individual psychology for a while, he realized it wasn't quite what he wanted to do.
Instead, he focused his attention on two businesses. The first was a self-motivation session called Pathways.
It was well-liked, and he had some success with it.
Courtroom Sciences was the second venture.
This company offered mock trials, mediation, jury selection, and behavioral analysis to assist attorneys in getting ready for court.
He first met Oprah Winfrey via Courtroom Sciences.
A meat firm filed a lawsuit against her, claiming that she had slandered them. He assisted her in the lawsuit and they won.
Dr. Phil then began appearing as a guest on the Oprah Winfrey Show.
His program, Dr. Phil, was launched because of his popularity.
Even though there have been several problems surrounding the program, it continues to be one of the most-watched programs on daytime television.
Given everything mentioned above, it is obvious that Dr. Phil is qualified to give advice to visitors.
Also, he has previously collaborated with Oprah Winfrey, which suggests that he is aware of what creates a fun show.
Dr. Phil has some qualifications to host a show and offer non-clinical advice to his guests as a former practicing psychologist and entertainer.
Is Dr. Phil a Fraud?
Some might wonder if he's a fraud since he doesn't have a license.
According to the definition of fraud, it is a false or criminal deception with the goal of profiting financially.
Dr. Phil is not a fraud under this standard.
He aims to make money off his show, but not by lying or doing anything else unethical.
He makes an honest effort to offer guidance based on his experience.
However, some judges might think that since he is giving advice without a license, it might be illegal.
As a result, he would be a fraud as he is providing medical advice without a license in order to make money.
However, Dr. Phil is not offering consultations. He is only giving advice based on his professional expertise.
He doesn't say that attending therapy for 20 sessions will make the person's mental disorder go away.
Instead, he warns them that while the treatment may be effective, it will be a hard effort.
The effort might not even be worthwhile, in which case a different course of treatment might be preferable.
Also, his title is yet another facet that some viewers might find problematic.
Dr. Phil gives the impression that he is an expert on mental health by referring to himself as a doctor.
Phil attended college and earned a psychology Ph.D.
It's a tiny gap that allows him to keep giving advice even though he doesn't have the right to.
Dr. Phil does not defraud his audience for money.
He is not urging people to enroll in the "miracle" treatment he offers.
Conclusion
One of the most-watched daytime talk shows is The Dr. Phil Show
Despite several controversies, Dr. Phil's show is neither fake nor staged.
This show is geared towards raising awareness of patients' mental health.
CSN Team.