15 Oldest Roblox Games Ever Created (Ranked)
Since its official launch on September 1, 2006, Roblox has developed into a very well-liked MMO (massively multiplayer online) game.
In 2019, Roblox had over 90 million active users per month. Like Minecraft, Roblox enables players to utilize their imagination to create worlds and original video games.
The Roblox team also makes games and virtual worlds for people to enjoy. Roblox created a Builders Club, introduced Robux, the in-game currency, and brought tens of millions of games to the site.
Roblox had to start somewhere in order to reach the 40 million games hosted on the site today. We'll identify and discuss 15 of the first Roblox games ever made in this guide. While some are long-archived, others can still be played.
Most of the previous games were created by the Roblox team, unlike the current crop. Here is our ranking of the games starting from game 15 all the way to game 1. Here are the top 15 Roblox games of all time.
15. Dodge the Teapots of Doom
Creation date: December 2007
Dodge the Teapots of Doom is the first game on our list of the oldest Roblox games. The well-known Obby games are remarkably similar to Dodge the Teapots of Doom.
In this straightforward game, the player must avoid huge teapots. For a while, the game gained popularity, and the number of visitors quickly surpassed 1.15 million.
Dodge the Teapots of Doom was built with clockwork. Although it can no longer be played, it is still copyable, allowing a Roblox user to copy and change it to make new versions.
14. Ultimate Paintball
Creation date: September 12, 2007
The very first Roblox game to reach 2 million visits was Ultimate Paintball. For a while, Roblox's most popular game was this one.
From 2007 until 2009, Ultimate Paintball held the top rank before being surpassed by Heli Wars: Desert Attack. The red and blue teams competed in Miked's game, "Ultimate Paintball."
Users could use a Rocket Launcher, or paintball guns to fire. Players attempt to kill each other in order to seize the flag during each round, which lasts 10 minutes.
13. Happy Home in Robloxia!
Date of creation: June 2007
The template map Happy Home in Robloxia features a beige-brick home with a red-shingle roof. When users wish to construct a place, they can use this template.
Over 1.11 million people played the game before it was officially shut down in 2017. The template contained many unanchored elements.
When using the template to create their own designs, players had access to tools for copying, deleting, moving, modifying, and dragging map objects.
After the Happy Home was expanded in 2010, Shedletsky's Telamon's Big World was created on the adjacent site. The authors' first automobile or empty house could be purchased with this template. There was a river that once you were in, you couldn't get out of, and a big canyon with an elevator.
12. Chaos Canyon
Date Added: May 1, 2007
The Roblox team and a few of its more active players first worked together on Chaos Canyon. Even though Roblox produced the game in its entirety, players like ting222, PilotLuke, and Yahoo contributed to the design and creation of some of the models.
In the multidirectional shooter genre, Chaos Canyon is a BrickBattle game. The purpose of Chaos Canyon is not clear. A free-for-all brawl begins as soon as the game is launched.
It was one of the most popular games with over 1.15 million users when it was offline. Since 2017, the game is no longer playable.
11. Base Wars FPS
Creation date: April 24, 2007
A first-person shooter game developed by the Roblox team is called Base Wares. The very first first-person shooter video game featured on the Roblox platform was Base Wars FPS.
Different classes of shooters included:
Sniper
Healer
Tanky tank
Assault
Trooper
Over time, the Roblox platform's Base Wars FPS gathered more than 774K visits and more than 30K favorites due to its enormous popularity.
The game was last updated in 2014, although it is still theoretically playable and exists. Fortunately, it is also uncopylocked, allowing anyone to change the game and produce a new one that is comparable.
10. Classic Glass Houses
Creation date: February 16, 2007
Glass Houses takes the tenth spot on our list of the earliest Roblox games. Over 570K people visited and favorited the BrickBattle game Glass Houses, which had over 7K visits. By the Roblox team, it is a BrickBattle fighting game.
Traditional: Killing the opposing team is Glass Houses' goal. For three minutes per round, two teams battle it out. Additionally, players must avoid turret cannonballs that are explosively loaded.
9. Classic Crossroads
Date of Creation: December 23, 2006
The Classic Crossroads game, built by Roblox and created by John Shedletsky, is likely the most well-known of all the Roblox games made in 2006. From 2006 through 2014, Shedletsky served as the creative director of Roblox.
Classic Crossroads is one of the rare games that are still playable today and still gaining popularity. By the end of 2021, the number of visitors will have just passed 6.9 million and be approaching 7 million.
Furthermore, Classic Crossroads has been bookmarked more than 138,390 times. It's also one of the few vintage games that made it through the 2017 shutdown of Roblox's oldest games and were later re-released with modernized visuals.
8. Santa's Winter Stronghold
Date of Creation: December 19, 2006
The first Christmas-themed game, Santa's Winter Stronghold, was developed in time for Roblox's first Christmas. John Shedletsky, the Creative Director of Roblox at the time, created Santa's Winter Stronghold.
The Roblox team was behind the game's creation. Both the Santa and the elf characters were taken on by the players.
The objective is to acquire the most presents or eliminate the most opponents in order to get the most points. Over 125K people had visited the site by the time it was no longer playable.
7. Air Base Sector 128A
Date of creation: November 29, 2006
It was more of a display than a game at Air Base Sector 128A. Air Base Sector 128A was a military airbase. It had a watchtower, barracks sleeping accommodations, and two cannon towers.
A user by the name of tie it up developed Air Base Sector 128A. The exhibition was referenced in the opening entry of Roblox's blog in December 2006. The mention brought most of the visitors, which total slightly over 20K about.
6. Experience Gravity
Date of Creation: November 21, 2006
One of the most played science fiction games from Roblox's first year is Experience Gravity. Experience Gravity has received over 5.4 million visitors too far and is still playing. The game is appealing to players of all ages because of its simplicity and elegance.
A lot of Experience Gravity's badges have won accolades. By performing unique activities like meeting Amanda, the game's designer, playing for an extended period, jumping into the sun, and many other events, you can earn a badge.
5. Sunset Plain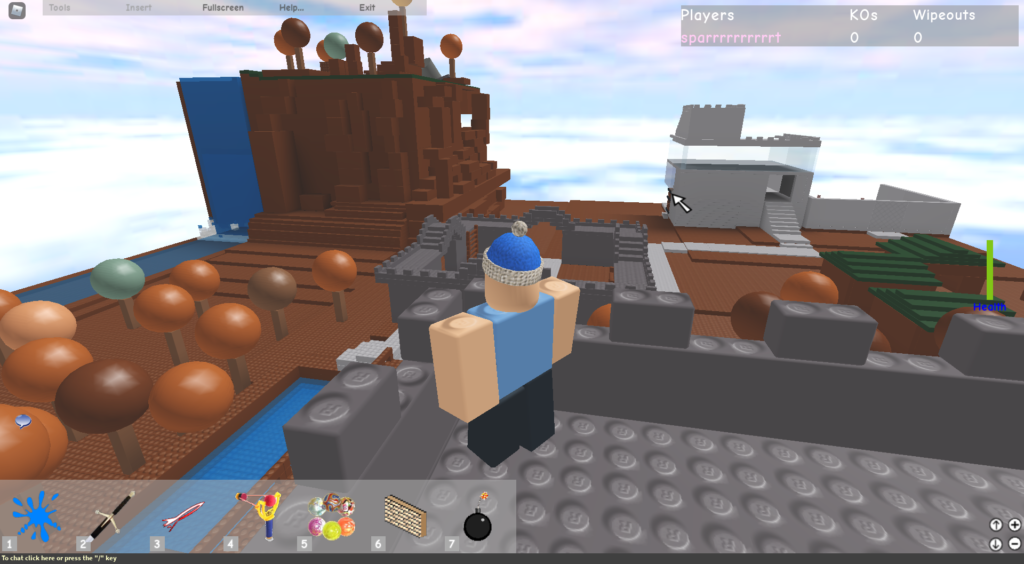 Date of creation: November 16, 2006
Sunset Plain is the game that ranks fifth on our list of the earliest Roblox titles. One of the original BrickBattle games was called Sunset Plain.
After being included in Roblox Developer's online journal's first issue, Sunset Plain experienced a surge in popularity. Over 20,400 users have visited the game.
The majority of the game's features, however, don't work as they should because it hasn't been updated since it was made.
Although it is no longer playable, certain of Roblox's Super Nostalgia Zones still offer the opportunity to play a throwback version of the game, which was made by Schwaabo.
4. Yorick's Resting Place
Date Added: October 21, 2006
Under the moniker Yorick, Jacobxxduel made Yorick's Resting Place. Administrator for Roblox is Jacobxxduel. Yorick's Place is a holiday-themed game that seems to draw more players in the days leading up to and following Halloween.
The contest, in which participants who could solve four riddles would receive a special Riddling Skull cap, is thought to have sparked an increase in interest around that period.
Before it was shut down, the game received a total of 136,400 hits. Developers can now copy and modify Yorick's Resting Place to create new versions that are playable because it is no longer copylocked. The Riddling Skull cap, however, was removed from the list of prizes.
3. Forest of Desolation (Abyss's Place)
Date of creation: August 20, 2006,
The following Roblox games are genuinely old by the time we get to the top three on our list. Before it was closed in 2009, Abyss's Place, which he created, had received a total of 716 visitors.
It was the first game created by a user as opposed to a member of the Roblox development team. Originally known as Forest of Desolation, it featured a decaying tower in the middle of an autumn forest.
Forest of Desolation (Abyss's Place) has since changed its name. After being banned from the Roblox platform by its creator, the game was renamed Abyss's Place. The game was once featured on the Roblox blog, although it didn't draw many players.
2. Classic Place
Date of Creation: March 10, 2006
Classic Place, created by David Baszucki, a co-founder of Roblox, served as the introduction game that explained how Roblox functions. This would be your opening game for most players.
At the time of the company's launch, Classic Place was the only playable game, and it remained the opening title for a few years after that.
This was the first game that every new user saw and engaged in when they checked in. As a result, it received over 100K visits in the first few weeks, but after a time, the number leveled down as players had more options thanks to the addition of other games to the Roblox platform.
1. Rocket Arena
Date of Creation: January 26, 2006
Rocket Arena is the game on Roblox that is the oldest. The game's release date was as early as January 2006 and it remained relevant for almost a decade.
Rocket Arena, a Roblox creation, had about 2 million users as of the end of 2021. Many well-liked games that followed were influenced by the free for all fighting arena known as Rocket Arena.
But it can no longer be played. Despite still being popular with veteran players, the game was permanently retired in 2017. Today's fighting games take a lot of their inspiration from classic Rocket Arena.
More than 87K people added Rocket Arena to their favorites list as a location to fight at will. Many of the other older games were broken by Roblox updates, too.
Technically speaking, the game was useless by 2015 because the jet boots were broken. Along with several other broken games developed in the first few years of Roblox's existence, Rocket Arena was shut down permanently in 2017.
Which of the First Roblox Games is Still Playable?
Amanda's Experience Gravity is likely the oldest Roblox game that is still playable in 2021. Since its founding in November 2006, it has attracted a sizable following and received more than 14 million visits.
To jump off the baseplate is the object of the game. You can circle planets if your jump is powerful enough. However, if you circle around the sun while pointing at a different planet, you will crash into the sun and be returned to the baseplate.
Experience Gravity's reward system is one of the primary reasons for its popularity, which it still enjoys today. There are several prizes to be won for playing more often and investing more time in each game.
Millions of people have access to Roblox, which enables them to create, share, and play games with their peers. The strategy obviously benefits from fostering a sense of community, and it took off during the COVID-19 pandemic.
As a result, during the past few years, both the quality and quantity of games have improved. Do well to like, comment, and share this informative content.
CSN Team.