Which Military Branch Should I Join?
– Which Military Branch Should I Join? –
Thinking about joining the military, but not sure which branch? This article discusses the differences between all braches, their pros and cons, and more.
People like you join the military for a variety of reasons, including a desire to serve our country and a desire to travel the world.
The United States military is divided into six branches, each of which is distinct. It is critical to research them all in order to find the best fit for your interests, goals, and personality.
Continue reading to learn more about the military branches and see our response to your question: which military branch should I join.
Read Also:
What are all the Branches of the Military?
The six branches of the U.S. military are the Army, Marine Corps, Navy, Air Force, Coast Guard, and Space Force.
Each branch has different missions, operations, training, and cultures.
Before signing on the dotted line, it's important to understand the different branches of the military and what they do.
U.S. Army
The Army's purpose is to defend the land and possessions of the U.S. and its territories by providing forces for sustained combat and stability on land.
The largest and oldest U.S. military branch, the Army also provides logistics and support to other branches.
The Army's Basic Combat Training lasts about 10 weeks with three phases. The Army lets you choose an occupational specialty (MOS), which will determine some of your training.
All members of the Army do have to go through "Chemical Radioactive Biological and Nuclear Readiness" training, which includes being exposed to gas while wearing the proper masks.
Read Further
Army recruits also must pass physical training, navigational training, and weapons training, including hand-to-hand combat.
Army members are deployed often, generally 220 days out of the previous 365, or 400 days out of the previous 730. Deployments often last 12 to 18 months.
Loyalty, duty, respect, personal courage, honor, integrity, and selfless service are the core values of the Army.
The U.S. Marine Corps
As part of the Department of the Navy, Marines carry out global missions on both land and sea.
The Marines are a rapid-reaction, expeditionary force, meaning they are usually the first boots on the ground during conflict.
Marine Recruit Training is rewarding but intense, pushing recruits to their physical and mental limits. Boot camp begins with weapons, martial arts, and other physical training.
Read Further
By phase two, training gets tougher, including gas chamber exercises and a grueling 45-mile march known as "the crucible."
Marines typically are deployed for one year, home for two, or 1:2 deployment-to-dwell ratio.
U.S. Navy
The Navy oversees combat-ready maritime forces that are designed to discourage aggression and preserve freedom of the seas.
The U.S. Navy's boot camp lasts about seven weeks and includes physical fitness, firearms, and seamanship training.
Training includes physical training and basic military education, including both classroom and hands-on training, covering firefighting, emergency shipboard training, and water survival.
Recruits must also be able to swim 50 yards and complete a five-minute prone float.
Read Further
The final week of training involves the "Battle Stations" exercise, which consists of multiple obstacles that test the things learned throughout basic training.
These vary by the type of mission, but typically last around seven months. During this time, sailors may not see land for most of their deployment, and they are often required to stand for 6-12 hours without breaks.
There are also no holidays or days off. Different roles have different deployment schedules.
U.S. Air Force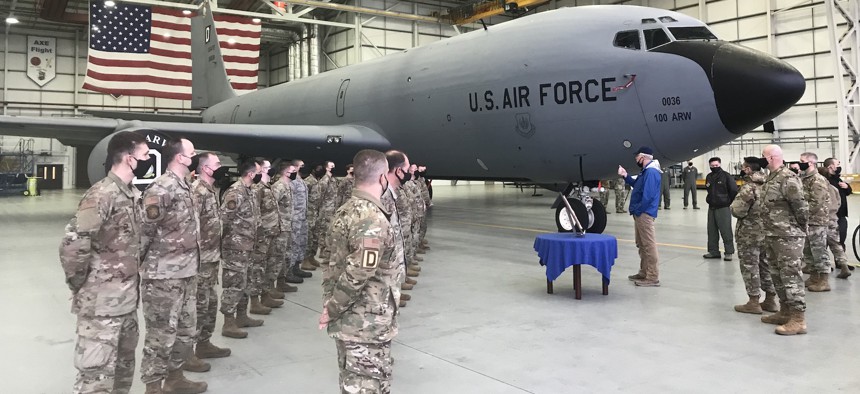 The U.S. Air Force provides rapid, flexible, and sometimes lethal airpower capabilities, delivering forces anywhere across the globe in less than 48 hours.
While the Air Force does have a role in combat, it largely participates in humanitarian, peacekeeping, and evacuation missions.
Air Force basic training lasts eight-and-a-half weeks and trains recruits in academics, physical fitness, and weapons, including tactical and pistol training.
Read Further
The Air Force's deployment frequency depends on the career field you choose.
These range from a 1:4 ratio (120- or 179-day deployments, then 480 to 716 days home), to a more frequent 1:1 ratio, which is typically six months deployed, six months home.
U.S. Space Force
The U.S. Space Force assembles and trains forces in order to protect the country and its interests in space, and to contribute capabilities to the joint force.
Because the Space Force is the newest military branch, their training is still being developed.
Currently, their basic training can be compared to that of the Air Force, with the Space Force adding some additional, branch-specific components.
Read Further
This includes 21 hours of additional instruction, eight hours of self-paced instruction focusing largely on emotional intelligence, and seven instructional blocks totaling 13 hours that include Space Force structure, ways forward, unclassified intelligence briefings, and briefings from senior leadership about military doctrine.
Eventually, the Space Force will deploy troops to orbit, but field assignments can take place on land as well.
The first deployment of Space Force personnel took place in September 2020, when 20 enlisted and commissioned Airmen from the 16th Expeditionary Space Control Flight and the 609th Air Operations Center were sent to Qatar.
Read Also:
Conclusion and Call-to-Action
In conclusion, there are numerous factors to consider if you decide to join the military, the most important of which is your personal personality.
Based on your own unique interests, you should be able to determine whether a job is a good fit for you.
We believe the above piece of information on "Which military Branch should I Join", was useful. Please, kindly share this content on all the available social media platforms.
CSN Team.