Why Do You Want to Be a Nurse Smart Response
– Why Do You Want to Be a Nurse –
Interview questions are an important part of the selection process for nursing positions. This guide provides answers to the question, "why do you want to be a nurse?" during a nursing interview.
If you're applying for a nursing degree, "why do you want to be a nurse?" is the most critical question recruiters will ask you. You must be explicit about your career goals and objectives and why you want to pursue a career in nursing.
This article will go over what interviewers want to hear, how to approach your responses, and a few sample responses to get you started.
Why Interviewers Ask Why You Want to Be a Nurse
Nursing is a job that requires you to help people in sometimes stressful situations. By responding to this question, you will be able to highlight your talents and your love for nursing practice, and your capacity to remain calm under pressure.
There are various actions you can take to prepare an answer to this question before your interview. While writing down what you want to say is beneficial, avoid memorizing it so your response seems authentic and you don't feel obligated to follow a script.
Nursing is a beautiful job with many options, but it also comes with a lot of problems. It is not a job to be taken lightly. As a result, the interviewer will be interested in knowing how serious you are about the job.
Interviewers also want to know why you were interested in the field. Tell a story about a memorable interaction with a medical practitioner or the sense of fulfillment you get from assisting a patient.
This might show that you're not only skilled but also care deeply about the individuals you'll be working with.
When a nursing interviewer asks you why you became a nurse, they are attempting to understand your personal motivations for becoming a nurse. Another intent of the interviewer when asking this question is to assess your enthusiasm for the field.
They want to know how passionate you are in the career's pursuit and if you are going into it for the right reasons too.
The interviewer will try to figure out what qualities and skills you have that make you good at what you do based on your response. Your responses should serve as the foundation for a dialogue about your nursing passion, qualifications, and skill set.
You may be interested in this nursing position since it offers a stable career with a decent salary and advancement prospects (which is a great thing to want for yourself!) However, ignore that element of your argument.
How to Answer, "Why Do You Want to Be a Nurse?" 
When answering this interview question, it is critical to be truthful in your response while still impressing the interviewer.
Even if the income and possibilities are high, nursing is a difficult career, and if you can't describe more profound interests in the job, it will only hinder you in the long term. These are the things that will get you through the tough times.
1. Be sincere
Avoid exaggerating your answers or constructing a statement that you believe would appeal to interviewers. Instead, spend some time reflecting on your basic principles and why you were inspired to pursue a career in nursing.
If you're not sure, consider the following questions:
‣ What is it about nursing that excites, delights, or fulfills you?
‣ What does nursing have to do with your abilities, values, or motivations?
‣ What drew you to nursing as a profession?
‣ As a nurse, what do you want to accomplish?
2. Start from the outset
Start from when you were little if you have always wanted to be a nurse since you were a child. Make it your starting point if you got into medicine because of an influential college professor.
The notion is that you don't want to travel too far back, but you also don't want to start at the beginning. Although not everyone can pinpoint a specific event (which is fine), consider what drove you into nursing.
Make sure you tell a story, especially with a personal topic like this. In this case, most interviewers prefer narratives to bullet point statistics.
Don't feel compelled to make up a fantastic story about how a nurse saved the day when you were a kid; instead, include real-life examples of when it became evident that nursing was the right vocation for you.
3. Share a personal story
Employers gain a unique perspective on your personal values when you share a personal narrative about why you want to be a nurse. Sharing anecdotes also sets you apart from other candidates because no one else has the same background as you.
For instance, you might be interested in nursing because a close friend or family member has had a health issue. Perhaps the nurses who looked after them while they were in the hospital motivated you to seek a nursing career.
This question encourages you to uncover and describe motivating factors in your own life, regardless of why you want to be a nurse. A personal narrative will never be forgotten.
4. Discuss your experiences
Because nursing is all about forming connections with the people you work with and assist, your response should reflect your empathy and capacity to make bonds with them.
Your response will demonstrate that you desire to be a nurse because you appreciate the nursing process. You can answer this question in a variety of ways based on your history and interests.
Perhaps you've always been passionate about assisting specific populations, such as elders or children.
If you've worked with these persons before, include information in your response. Incorporating your experience into your response will provide the interviewer with added value.
5. Bring it in the Future
Finish with a nod to the future and what you hope to achieve in your bright new nursing profession. Bringing your solution from the past to the future demonstrates your foresight and determination to realize your goals.
Tips to Answer "Why Do You Want to Be a Nurse?"
There are ways you can answer this without feeling you were wrong. Trust me, if you go through these tips, you will not regret what you did.
1. Study the Company
Every place you apply to will have its own qualities. Perhaps the group focuses on low-income people, the elderly, or those in acute care. You might be able to include this in your response.
Even if you don't, it's still beneficial to provide context. You can boost your explanation of why you're applying by knowing where you're applying.
2. Keep the Job Description in Mind
When answering this question, make sure that you don't wander too far away from the job description. You may want to limit your story and experiences to the skills that are crucial to the job.
As you demonstrate your interest in the field, use the skills listed in the job description and apply them to yourself.
You're not trying to rewrite your resume; carefully integrate them. Instead, think about how your talents have evolved over time and how that relates to your nursing interest. Keep in mind that abilities are built through a variety of interests.
It's a good idea to read the job advertising and the hospital website attentively to get a sense of what they're looking for in the individual who fills the open position, as well as the hospital's overall culture.
3. Draw on Your Experiences
Adding a personal touch to your response to the question "Why did you pick nursing as a career?" can greatly help. This results in a one-of-a-kind response that can help you stand out from the crowd.
Personal experience may also give a flash of inspiration that explains why you selected nursing as a profession.
READ ALSO!!!
4. Stay Optimistic
Nothing would irritate an interviewer more than cynicism and negativity in a job interview where empathy and altruism are required. This isn't to say you shouldn't be aware of the profession's problems.
You will increase your effectiveness in the workplace if you can reinterpret these challenges with a positive perspective and a "can do" attitude.
5. Be Brief  
A long, rambling response may convey the impression that you didn't think about the subject beforehand. However, rushing through your words may irritate the interviewer as well.
So, don't be scared to pause and take deep breaths, but choose your words carefully and efficiently. Because concise communication is such an important element of the nursing profession, this is an excellent opportunity to emphasize it.
6. Rehearse Your Response 
Practice your answer before the interview, preferably with someone who can provide criticism, such as a friend or family member. If you don't have access to a mirror, rehearse in the view of a mirror or, preferably, record yourself and play it back to hear what you said.
Finally, you should prepare for this question by going over it a few times and tweaking your response each time.
Smart Responses to Why You Want to Be a Nurse
Whether you're interviewing for nursing schools or nursing jobs, one thing is certain: they'll ask you about your chosen profession. Interviewers can phrase the question in various ways, such as "Why nursing?" "Why do you want to work as a nurse?" or "Why do you want to be a nurse?"
Below are sample answers to help you give the interviewer a smart response to this question.
Sample 1
To be truthful, I am concerned about society's existing situations of things. It's difficult to discover healthy folks because everyone has problems. High blood pressure, heart disease, severe allergies, and cancer are all possibilities. 

The fact that three out of every four persons are obese or overweight exacerbates the problem. It, in my opinion, creates a major concern for our entire society and economy, with potentially fatal repercussions if we do nothing. 

And, in my opinion, it all begins with children. Working with children and treating them gives us the opportunity to teach, show them the proper road, and emphasize the need for physical activity and a good diet.

We have the ability to change lives and influence a future society that is healthy. That is, at least, what I think, and it drives me to pursue a career in pediatric nursing.
Sample 2
Several years ago, a dear family member was extremely ill, and his nurses were kind to him while he recovered.

I was inspired by their ability to intercede for their patients by recognizing their needs, making them feel at ease, and swiftly giving treatment as needed while visiting him in the hospital.

I'd be thrilled to do the same for any families in need of a capable and knowledgeable caregiver.
Sample 3
My ambition is to serve as a nurse for a Middle Eastern non-governmental organization. I was born in Syria and am deeply concerned about the situation there.

I'd love to travel there and assist directly on the ground. Every day, many children die, which I believe is unacceptably high. But I'm not a politician who can make sweeping changes.

What I can do, on the other hand, is travel there and work as a nurse, saving lives and giving people hope. Nursing school is a critical step in my career path.

We have the ability to make a difference and contribute to a future society that is healthy. That is, at least, what I believe, and it is what drives me to seek a career as a pediatric nurse.
Sample 4
Medicine is such a fascinating field, and one of the most rewarding aspects of nursing is that I am constantly learning new things." I know people who dread earning their annual CEUs, but I consider it a benefit of the job.

For example, I recently completed my Wilderness Medical Society certification and am now qualified to serve as medical staff on the Appalachian Trail.

But, whether it's Diabetes for APRNs or Nursing for Infertility, I'm always able to keep my enthusiasm for nursing alive by continuing to learn and be amazed by the medical industry.
Sample 5
Helping others attain their goals has always driven me." Nursing skills provides a unique opportunity to assist individuals in obtaining a healthy state of being, which is one of life's most significant components.

The job's fulfilling nature, combined with the opportunity for solid employment possibilities, has inspired me to pursue a nursing career that I aspire to flourish in for the rest of my professional life.
Sample 6
I never intended to be a nurse; instead, I always wanted to be a teacher; however, when I found out I was eligible for the nursing program at the college I was attending, I decided to look into it.

I had no idea how much that impulsive decision would affect my life. I fell in love with nursing as soon as I started classes.
Sample 7
I took a basic first aid course in college and found it quite intriguing. I began volunteering for first-aid jobs, and several of my other volunteers were nurses.

I was intrigued by their work, and the more I studied about it, the more I became enthusiastic about the potential of assisting people in medical emergencies. These nurses became friends with me and guided me through the application process.
Sample 8
I believe that my life's destiny is to become a nurse. I'd like to assist those who are in need and make them feel better as a result. In addition, I want to be able to look after individuals.

I've always been a compassionate and caring person. I believe that by giving the finest care possible and feeling better about myself, I will be able to give the same care to others.
Sample 9
I believe in assisting others, especially in situations of hardship." I was always the one asked to convey information to any concerned parties when I worked as an EMT.

I'd like to improve my skills, and I believe nursing is a wonderful fit for me. "This position suits my passions and background working with medical specialists.
Sample 10
During high school, I volunteered at a local hospital and saw firsthand how nurses made a difference in the lives of their patients. As I grew older, it became clear that nursing was the best match for my love of biology and desire to help people.
Sample 11
I've always wanted to be a nurse since I was a child." One of my first recollections is of a nurse caring for me when I needed stitches in the hospital. I didn't cry or panic since she was so kind and compassionate to me.

I remember thinking that was the type of person I wanted to be when I grew up as I left. Since then, everything I've done has been geared toward my goal of becoming a nurse.
READ ALSO!!!
Sample 12
Because half of my relatives work in the medical industry, I've always been surrounded by physicians and nurses. My father owns and operates a small medical practice, and it would be a dream come true to work alongside him and eventually take over the business.

Of course, I could pursue a variety of vocations, including medical school or a career in medical administration. But, of all the professions, nursing appeals to me the most. It is the perfect fit for my abilities and personality.
Sample 13
I volunteered for six months in a nursing home and thoroughly enjoyed every aspect of the job, including the less glamorous tasks like assisting clients with personal hygiene.

It exceeded my expectations, and I felt like I was doing an excellent job, and my clients liked my company. On top of that, I look up to my father, who has been a nurse for over two decades. All things considered, I can't think of a finer profession to pursue.
Sample 14
It is the job that most suits my personality. I've always wanted to work in a hospital since I adore assisting others.

It's tremendously rewarding to witness how you supported someone through a difficult situation, whether through treatment, attention, or simply some words of support given at the right time.

course, I understand that the task is difficult. You work night hours and overtime, and you may witness emotionally unpleasant events, such as a child dying during your shift. However, none of this deters me from applying. Nursing continues to be my passion.
Sample 15
Nursing is a career choice for me since I enjoy learning new things. As a nurse, I am constantly pushing myself to stay current on medical developments and training in order to deliver the best possible healthcare to my patients.

As a nurse, I discover something new every day from my coworkers and patients, which motivates me to learn more about the techniques and methods I utilize.
Why these Smart Responses Work
The answers above cover a range of qualities and these are the reasons why they work.
‣ The interviewer will be glad to learn that the candidate wishes to make a positive impact on the lives of others. The candidate also emphasizes that patient care is a top focus.
‣ It works because the candidate is emphasizing to the interviewer the importance of dealing with patients.
‣ These samples are great because it demonstrates the candidate's enthusiasm for the nursing profession as well as a family history of nursing.
‣ They are excellent responses that convey to the interviewer the candidate's self-assurance and understanding of the assets she possesses that support her candidacy.
‣ They help the individual demonstrate a willingness to stay current on medical skills and nursing education.
What to Avoid When Answering the Question
1. Avoid Negativity
For the interviewer, a negative response will make up for a red flag. If you are someone who often complains or sees the worst in a scenario, you'll be a challenging colleague in an extremely challenging sector.
2. Avoid Complaints
Avoid Complaints You have chosen this profession and are applying for this position.
3. Avoid Unrelated Stories
Don't get carried away with nursing stories that have nothing to do with you or your career. Make sure to keep things brief and relevant.
4. Avoid mentioning self-serving motives
Even if the money is an appealing component of the job, emphasizing it as a justification will backfire. The interviewer is searching for a response that goes above and beyond your own requirements.
Follow-Up Questions After "Why Do You Want To Be a Nurse?"
Here are a few instances of other questions the interviewer may ask after asking why you want to be a nurse. This will help you prepare for the interview's possible direction.
Question 1: What do you believe the most challenging aspect of being a nurse is? 
You have to be aware of some nursing difficulties ahead of time. Make some inquiries. Being caught off guard on this question is the worst thing you can do to yourself.
Question 2: What are your long-term professional objectives? 
Your interviewer will assess your commitment to becoming a nurse. It's not a job you can just "test out," so give an answer that demonstrates genuine interest in a long-term medical career.
Note that this does not obligate you to practice nursing. Many hospital executives and managers have worked as nurses. There are nurse managers as well.
Question 3: How do you deal with pressure? 
Consider the stress-reduction tactics you employ. It will be critical to demonstrate your competence. Consider responding in a way that demonstrates you're a team player who understands your teammates' concerns.
Other Possible Interview Questions
Along with the answer to the previous questions, there are a few other interview answers you might consider practicing before your interview. Among them are:
‣ Which area of nursing do you find most satisfying?
‣ What education and training have you had that has equipped you for a nursing career?
‣ What aspects of past nursing positions or internships did you enjoy the most/least?
‣ How well do you collaborate with others?
‣ How will you organize yourself during your shifts?
‣ What do you think you'll be able to provide your patients in terms of value?
‣ How would you deal with a patient that is dissatisfied with their treatment?
‣ How do you deal with work-related stress?
‣ Have you ever had a disagreement with a coworker?
‣ How did you overcome your differences and collaborate?
‣ How do you deal with interactions with doctors?
READ ALSO!!!
Tips to Prepare for a Nursing Interview
Make use of these tips if you want to be successful in your Nursing career.
1. Research the Company/ Institution
Answering interview questions like "Why do you want to work here?" will be easier if you complete your research about the hospital or organization you're interviewing with.
It can also assist you in aligning your talents and qualifications with the values and mission of the organization. Look for recent connected news pieces and press announcements on their website.
2. Prepare an opening statement.
Writing down and preparing a brief bio about your experience, qualifications, and personal attributes may help you respond to questions like "Tell me about yourself." It's also a useful networking tool to have on hand in case of future opportunities.
3. Anticipate Salary Discussions
It's a good idea to learn about average earnings for the position so you're ready to talk about salary if it comes up. To see salaries by employer, area, and job title, go to indeed.com/salaries.
4. Prepare for other Interview Questions
Preparing for your interview by writing down responses to a few frequent questions posed during nurse interviews will help you relax and feel more confident.
Although nervousness is natural and expected, you might feel more prepared by practicing your responses and thinking about why you want to work in this industry.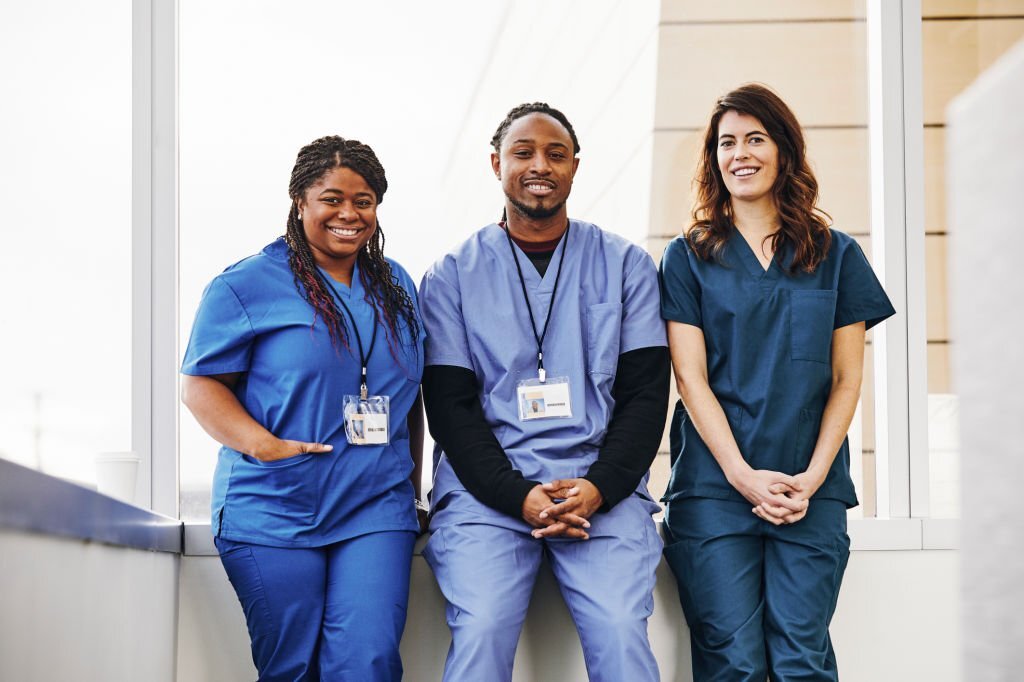 Great Reasons to Consider Becoming a Nurse
Nursing is a calling as much as it is a profession. You'll have a good impact on your patients' lives as a nurse, but that's only one reason to become a nurse.
There are many reasons nursing may be a satisfying profession, ranging from work stability and flexibility to attractive compensation. Here are ten more reasons to think about a career in healthcare:
1. Opportunities for Professional Development
Because no two days are alike as a nurse, you'll almost certainly learn something new every day on the job, with plenty of on-the-job tutoring and development opportunities.
Once you have your Nursing BSN, you can pursue advanced nursing degrees such as nurse practitioner, nurse anesthetist, nurse leader, and nurse educator. (Hint: Marian University offers many of these advanced degrees!)
2. Nurses Have Real Impact
Nurses do a lot more than just administer medicine. You can make a significant difference in someone's life as a nurse. You can give others hope, even while they are going through a difficult period.
After a traumatic diagnosis, nurses frequently advise patients and families, celebrate with them when they receive good news, and become trusted confidantes.
Volunteering is another way for nurses to help their communities. When asked what they have done to enhance the health of their community, 74 percent of nurses cited non-work-related activities in a 2017 poll.
Health fairs, health-related volunteering, generating or contributing money, and traveling for volunteer work were among the activities.
3. Specialties of Interest
Nurses can choose from mental floors to emergency departments when it comes to picking a specialty that interests them. Plus, don't worry if you don't discover the perfect fit right away.
A nursing degree qualifies you for almost any specialty, making switching careers straightforward. If you decide that caring for adult patients isn't for you, you can always alter your major to pediatric nursing.
4. Interests and Specialties
When it comes to selecting a specialty, nurses can choose from mental health units to emergency rooms. Also, don't be concerned if you don't find the ideal fit straight away.
With a nursing degree, you can work in practically any specialty, making job changes simple. You can always change your major to pediatric nursing if you decide that caring for adult patients isn't for you.
5. Work Schedule Flexibility
Nursing shift lengths can vary depending on where you work and your needs. If you're not a morning person, you can work evening shifts, or work longer shifts over fewer days to spend more time with your family if it suits your personal schedule better.
If you prefer a more typical work schedule, working at a clinic or physician's office can frequently provide you with what you need.
6. Consistent Industry Expansion
Due to the state's nursing deficit, registered nurses are the most in-demand employment in Indiana, according to the Indiana Department of Workforce Development's "Hoosier Hot 50 Jobs" list.
Indeed, the U.S. Bureau of Labor Statistics (BLS) forecasts a 16 percent growth in registered nurse employment from 2014 to 2024.
This is owing to the aging and retiring baby-boomer generation, increasing access to health insurance, and breakthroughs in healthcare that extend the average life expectancy.
7. High Job Satisfaction Level
Job and career fulfillment are not the same things. The first assesses employment satisfaction, and the second assesses contentment with your career decision.
According to the 2019 American Mobile Nurses (AMN) Healthcare study, 81 percent of nurses are happy or highly happy with their work choice.
70% of those polled showed they would recommend others to pursue a career as a nurse. Supporting professional development was also linked to job happiness, according to the survey.
52 percent of nurses were extremely satisfied with their careers when their employers supported nursing professional growth. Only 7% of employees were extremely satisfied when their companies did not promote professional development.
8. Nurses Get to Work on Exciting Projects
When you work with patients, each day can be different. Nursing is not a dull profession, whether you work in a clinic, workplace, hospital, or organization.
According to statistics from AMN Healthcare's 2017 Survey of Registered Nurses, nurses planning to work outside of direct patient care may work fewer hours depending on their situation, and some wanted to move into travel nursing.
9. Nursing Jobs are Well-Respected
You'll be in good hands as a nurse. Nurses have a long history of being compassionate healers, and they frequently rank high in Gallup polls for honesty and ethical standards in a variety of fields.
Nursing topped the list in 2016, with 84 percent of the public rating their standards as "high" or "very high," a position it has held for 15 years.
10. A Competitive Salary Range
You can expect job security and good pay due to the present nursing shortage. According to the Bureau of Labor Statistics, the average annual registered nurse pay in Indiana was $60,050 in 2016.
Nurse anesthetists made $148,650 on average in 2016, while nurse practitioners made $99,240.
"Why do you want to be a nurse?" is a question that practically every nursing school and nursing job interview will ask you. Consider your strengths, objectives, goals, and priorities when answering this question.
Try to come up with a precise response that explains why you chose this profession and where you see yourself working in the future. In conclusion, keep in mind that body language accounts for a greater percentage of the message you send.
Frequently Asked Questions
The following are questions people ask concerning this subject matter.
1. What is the best thing to say during a nursing interview?
Say it if you're quitting your current job because of the pay. Express your aims and goals if you want additional leadership possibilities. Share your love for nursing, your desire to help patients, and your desire to succeed in the vocation you've fought so hard to obtain.
---
2. What classes should I take in high school if I want to be a nurse?
English/language arts, algebra, geometry, biology, and chemistry should all be covered in class. Physics, psychology, speech, foreign language, and anatomy/physiology are among the other subjects required.
When possible, many college counselors recommend taking higher-level Advanced Placement (AP) coursework.
---
3. Should I become a nurse practitioner?
One of the most appealing aspects of working as a nurse practitioner is job security. The fact that there is a physician shortage, that people are living longer, and that NPs can deliver high-quality nursing care have an impact on your job security.
This basically suggests that you'll be in high demand.
---
4. Why do people want to become nurses?
Many people become interested in the field because they feel called to it and desire to undertake work that benefits people more than anything else. You'll have a good impact on your patients' lives as a nurse, but that's only one of the reasons to become a nurse.
---
5. Is nursing a good career? Why or why not?
Nursing is one of the best-paid professions in the United States, with plenty of opportunities. Nursing professionals have plenty of job prospects, and they may expect several advancement opportunities as they improve in their careers.
---
6. What is a Clinical Nurse Educator?
CLINICAL NURSE EDUCATORS (CNEs) train nurses in healthcare settings with the skills and information they need to give the best possible care to their patients. These instructors are well-liked nurses with excellent organizational and leadership abilities.
---
7. What is it like working in the Intensive care unit?
Intensive Care Unit shifts are typically 12 hours long, and most ICUs provide enough leisure for personnel to recuperate.
Working in critical care necessitates advanced technical skills, the ability to operate specialized equipment such as ventilators, and the ability to remain calm in the face of a crisis, which is common in ICUs.
---
8. Is becoming a registered nurse worth it?
In 2019, RNs made a median salary of $73,300. According to BLS data, that's near twice the national median income of $40,000. Nurses understand the demanding nature of their work, however, only 51% of RNs believe they were well compensated.
Advanced practice nurses, on the other hand, earn significantly more than registered nurses.
---
9. What's the best reason to major in nursing?
The following are excellent reasons to major in nursing.
‣ Nursing is a rewarding and satisfying profession
‣ Nurses have stable and secure employment
‣ Working freedom in other countries
‣ Outside of work, your medical knowledge is crucial.
‣ Every day is different for nurses
‣ You can find nursing degrees that are inexpensive.
‣ Online nursing programs make studying more convenient.
---
10. What are the benefits of being a registered nurse?
Being a registered nurse is personally satisfying. Nursing is widely regarded as one of the most professionally rewarding jobs available. The overall benefits include job security, international employability, professional growth, flexibility, and variety.
Don't forget to leave a comment in the comment box below. Also, feel free to share this article with your friends and loved ones.
CSN Team.